Renewable Energy Buyer's Toolkit
Welcome to the RE-Source Buyers' Toolkit.
The Toolkit has been developed to provide information, raise awareness and ultimately help you to enter the market for corporate sourcing of renewable electricity. The tools are designed to help unlock the huge potential for corporate sourcing of renewables and make a real impact for the transition to a low carbon society.
Below you will find:
All the tools are available free of charge.
Introduction to Corporate Sourcing report
Corporates are increasingly considering their impact on the environment and climate change. Consequently, they are seeking to reduce carbon emissions while controlling the costs associated with their electricity consumption.
Renewable energy procurement provides organisations with a means to power their operations with carbon-free electricity and secure low-cost electricity consumption over a long-time period
Read the report
Corporate Sourcing Directory
The European Corporate Sourcing Directory sets out which models of corporate sourcing have been used and which models we believe are possible to use in each country, where the information is known.
The directory will be updated over time as we become aware of new sourcing contracts and where administrative barriers are removed.
If you have any information or disagree with any of the data, please contact us at [email protected]
See the directory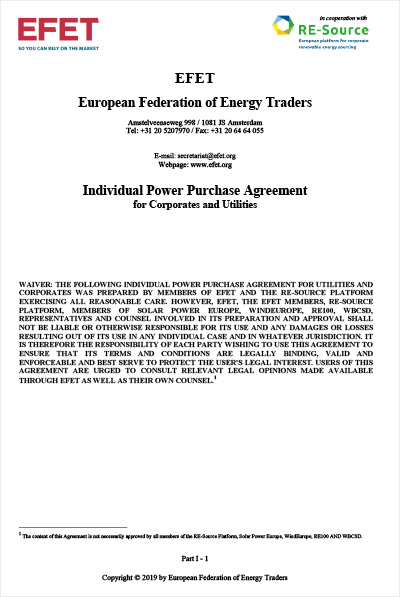 Template PPA contract
The EFET CPPA represents the first cross-country standard CPPA for Europe helping bring down transaction costs and facilitating the negotiation process between the parties involved. Before its endorsement by the EFET Legal Committee, the standard CPPA had been widely circulated across the industry and a number of lenders have confirmed its bankability.
The standard EFET CPPA allows for both physical and financial PPAs with the proven Election Sheet approach allowing for flexible tailoring of the PPA to the needs of the companies involved. The agreement will be supported by legal opinions in key jurisdictions, as well as translated from English into other EU languages to ease its uptake across Europe.
English
Italian
Polish
Spanish
Risk Mitigation for Corporate Renewable PPAs report
Corporate renewable PPAs have the potential to make a big difference in the transition to a low-carbon economy by providing developers of renewable power plants certainty on future revenues. But they are not simple. PPAs have many risks associated with them, risks that have traditionally been handled by utilities, developers and energy traders.
This report describes the risks that corporates need to be aware of when considering a long-term PPA and provides examples, written by expects in the field, of mitigating services and tools which can be used to mitigate some of the risks.
We hope this report helps you on your way to signing a PPA and contributing to the build-out of new renewable power.
Read the report
Pexapark training academies
New to PPAs?
Pexapark, the renewable Swiss FinTech, has written an in-depth introduction on what is a PPA for renewable professionals, for more information click the button below.
The European PPA market is characterised with an estimated total utility and corporate long-term risk appetite of approximately 8-10 GW of new renewable capacity annually. PPAs are relatively complex, with numerous structures available and difficult to value. Our PPA experts will explain how to compare PPAs systematically and quantitatively.
Furthermore, to promote the rise in renewable energy investment and simplify transactions, a standardisation of PPA has been developed. The European Federation of Energy Traders (EFET) in close collaboration with Re-Source has published a standard PPA, the EFET standard Corporate Purchase Agreement (CPPA). Our PPA specialists will show how the standard can be applied for typical PPA use cases.
Attend an academy
Digital platforms
The following online platforms are available from third party suppliers for project matchmaking and facilitating PPA deals:
IFRS accounting outline for Power Purchase Agreements
As part of their sustainability strategies, companies across the globe are entering into power purchase agreements (PPAs) with renewable energy generators. This paper aims to help address issues surrounding accounting for corporate renewable PPAs.
Read the report