About the RE-Source Platform
The RE-Source Platform is a European alliance of stakeholders representing clean energy buyers and suppliers for corporate renewable energy sourcing. This platform pools resources and coordinates activities to promote a better framework for corporate renewable energy sourcing at EU and national level.
The potential for corporate sourcing of renewable energy in Europe is significant and largely untapped. This is the first and only multi-stakeholder platform in Europe bringing together the interests of both buyers and sellers, to unlock the potential of new business models, accelerate the transition to clean, affordable renewable energy sources and help combat climate change.
Unlock corporate sourcing of renewables to deliver a cleaner, stronger EU, say multinationals
50+ major companies call for corporate renewables to be built into the EU's COVID-19 economic stimulus package – includes 40+ of Europe's biggest corporate buyers of renewable electricity, such as Mars, Ingka Group and VF Corporation;
Key asks include stimulating greater investment from the financial sector, and policies to support a faster roll-out of corporate power purchase agreements;
Demand-side groups and renewable industry bodies highlight opportunity to deliver on the European Green Deal.
Risk Mitigation for Corporate Renewable PPAs report
Corporate renewable PPAs have the potential to make a big difference in the transition to a low-carbon economy by providing developers of renewable power plants certainty on future revenues. But they are not simple. PPAs have many risks associated with them, risks that have traditionally been handled by utilities, developers and energy traders.
This report describes the risks that corporates need to be aware of when considering a long-term PPA and provides examples, written by expects in the field, of mitigating services and tools which can be used to mitigate some of the risks.
We hope this report helps you on your way to signing a PPA and contributing to the build-out of new renewable power.
EFET standard CPPA officially launched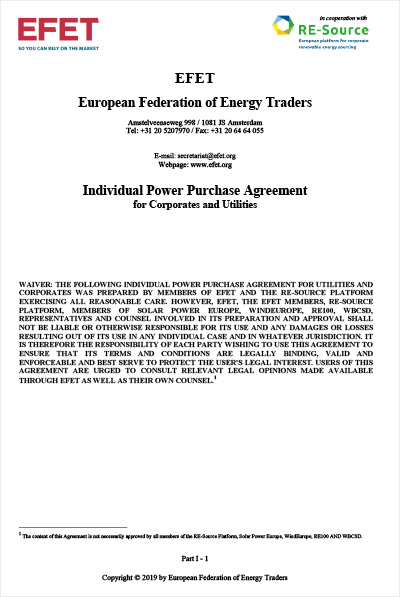 The European Federation of Energy Traders (EFET) and RE-Source Platform are pleased to announce the publication of the standard Corporate Power Purchase Agreement (CPPA).
This is the first standard CPPA valid for all European countries to bring down transaction costs and facilitate the negotiation process. The standard CPPA had been widely circulated across the industry (energy buyers and suppliers), law firms, advisors and a number of lenders have confirmed its bankability.
The standard CPPA allows for both physical and financial PPAs with the proven Election Sheet approach allowing for flexible tailoring of the PPA to the needs of the companies involved. The agreement will be supported by legal opinions in key jurisdictions, as well as translated into other EU languages to ease its uptake across Europe.
You can find the EFET standard CPPA template here.
Letter to European Commission
The RE-Source Platform, supported by multiple corporates, has just issued a letter to the European Commission urging them to prioritise the removal of regulatory barriers to corporate renewable PPAs as part of the upcoming recommendations to Member States on their draft National Energy and Climate Plans, so that the potential of corporate PPAs can be realised.
These recommendations must be clear, actionable, and country-specific. Getting this right could unlock significant corporate demand for green electricity.
The RE-Source Platform has also published a set of general policy recommendations as input to this process.
RE-Source declaration
RE-Source 2019 event at a glance
Objectives
Influence EU and national renewable energy and energy market legislation: the Platform will coordinate and align advocacy strategies. It will also define and implement possible common outreach initiatives at EU level and in member states with high potential
Raise awareness and educate all stakeholders on the advantages of sourcing renewable energy and the huge untapped opportunity
Centralise and disseminate information on renewable energy sourcing
Provide business opportunities: connecting renewable energy buyers and sellers
Deliver an annual "RE-Source" experience: bring together key players from the energy sector, corporates and governments at the annual RE-Source event
Organisations behind the platform
---
---
---