RE-Source 2022 Day 2: 'Number of the day': 28.
Heavy industry now accounts for 28% of Europe's total PPA capacity
The ICT sector has led Europe's corporate renewable power purchase agreement (PPA) market for years. Overall, the sector still accounted for 34% of PPA capacity between 2013 and 2022. However, heavy industry is catching up with 28% of total capacity today, according to data from WindEurope.
So far in 2022, both sectors are neck and neck in leading Europe's corporate renewable energy procurement. Heavy industry has signed around 927MW of capacity and ICT 923MW so far.

Google was one of the first to sign a PPA in 2010. Since then, giants like Microsoft and Amazon have followed. Currently, Amazon alone is responsible for the vast majority of corporate renewable PPA investment in Europe with almost 5GW to its name – this is almost two-thirds of the ICT sector's total PPA capacity.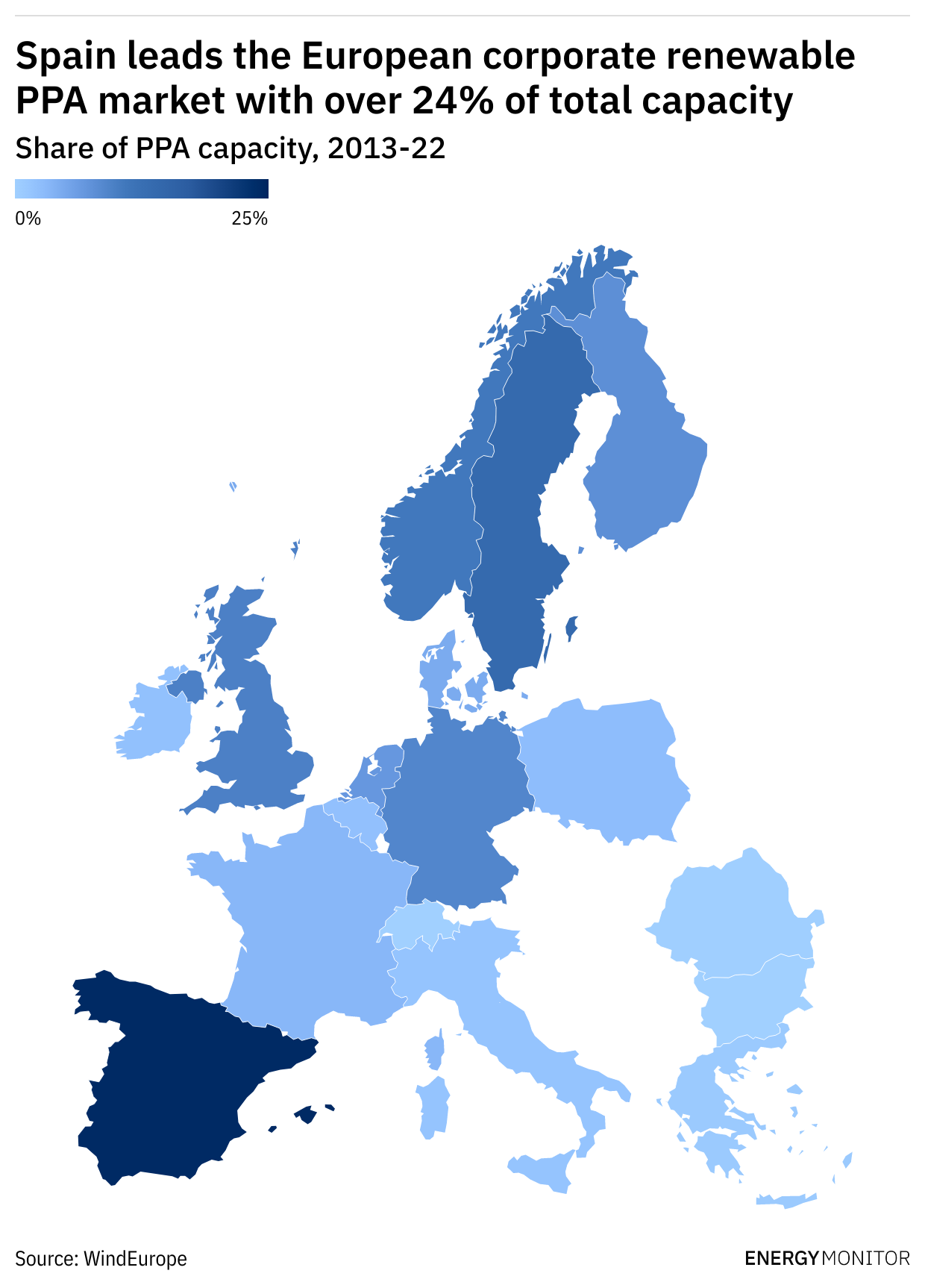 For a country that did not enter the PPA market until 2018, the figures reflect massive growth. Sweden, which has hosted PPA deals since 2013, comes after Spain with almost 14% of total capacity. Lagging behind are Switzerland, Bulgaria and Romania, all of which did not have any PPA capacity until 2021.
<iframe title="Amazon is responsible for almost 20% of corporate renewable PPA investments in Europe" aria-label="Table" id="datawrapper-chart-oR5c2″ src="https://datawrapper.dwcdn.net/oR5c2/1/" scrolling="no" frameborder="0″ style="width: 0; min-width: 100% !important; border: none;" height="598″></iframe><script type="text/javascript">!function(){"use strict";window.addEventListener("message",(function(e){if(void 0!==e.data["datawrapper-height"]){var t=document.querySelectorAll("iframe");for(var a in e.data["datawrapper-height"])for(var r=0;r<t.length;r++){if(t[r].contentWindow===e.source)t[r].style.height=e.data["datawrapper-height"][a]+"px"}}}))}();
</script>
Most members of the RE100 initiative, which brings together companies committed to 100% renewable electricity, are in the services sector, with many financial institutions making pledges to switch to clean energy. However, WindEurope's data shows that banks, retailers and food and drink manufacturers have been slow to invest in PPAs, with many companies committing to the energy transition but lagging in the procurement of renewable power.
Historically polluting heavy industry, on the other hand, seems to be feeling the pressure to decarbonise and is investing heavily, adding over 2GW of capacity in 2021 alone. Among the companies from the sector signing the most corporate renewable PPA agreements are Alcoa, Norsk Hydro and BASF.
The Number of the Day is brought to you by Energy Monitor as part of a media partnership with the RE-Source Platform for RE-Source 2022. The Number of the Day will be delivered to your inbox on each of the event's two days, 6 and 7 October. Energy Monitor is a data-led, fully digital publication dedicated to the global energy transition. Via our parent company, GlobalData, we have access to over one billion data points including companies, deals, projects, forecasts and trends. You can sign up for Energy Monitor's free, twice-weekly newsletter here.