RE-Source 2022 Day 1: 'Number of the day': 24.
Spain leads the European corporate renewable PPA market with over 24% of total capacity
Spain is paving the way for the rest of Europe when it comes to corporate renewable power purchase agreements (PPAs). Between 2013 and 2022, the country accounted for over 24% of overall PPA capacity in Europe, shows data from WindEurope. In 2022 alone, that share was almost a third.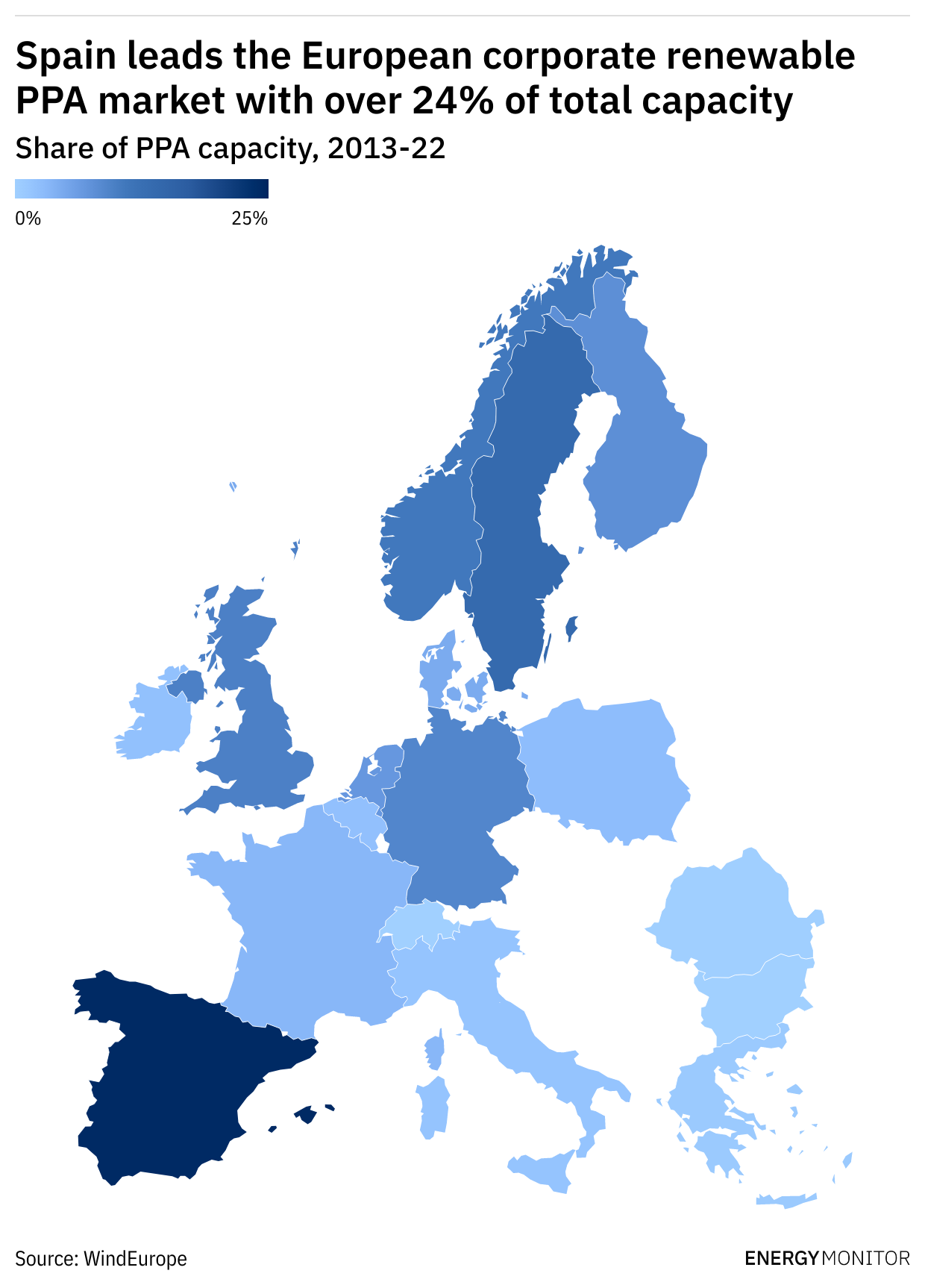 For a country that did not enter the PPA market until 2018, the figures reflect massive growth. Sweden, which has hosted PPA deals since 2013, comes after Spain with almost 14% of total capacity. Lagging behind are Switzerland, Bulgaria and Romania, all of which did not have any PPA capacity until 2021.
Part of the reason why the Spanish market is so attractive is that PPA prices have remained relatively stable there, bucking the trend of rising prices elsewhere in Europe. An abundance of competition and strong wind and solar resources create good opportunities for buyers, say market analysts.
Poland, on the other hand, has seen above-average price rises of over 36% for PPA contracts in Q2 2022. The gap left by dwindling Russian gas imports has driven up demand for renewables far beyond what suppliers can deliver. That leaves renewables developers free to operate in a seller's market.
The Number of the Day is brought to you by Energy Monitor as part of a media partnership with the RE-Source Platform for RE-Source 2022. The Number of the Day will be delivered to your inbox on each of the event's two days, 6 and 7 October. Energy Monitor is a data-led, fully digital publication dedicated to the global energy transition. Via our parent company, GlobalData, we have access to over one billion data points including companies, deals, projects, forecasts and trends. You can sign up for Energy Monitor's free, twice-weekly newsletter here.